---

Free Ministry Retreats

Free Word Ministries

"What's our reward?

Just this:

That we may make the gospel free of charge"

(1 Corinthians 9:18).

---

EVANGELISM TRAINING BOOKLETS - FREE DOWNLOAD

More Free Resources - Free Download

Free Audio Resources - Listen Now - Free Download


---

Facilitating Evangelism by
Bringing Together People, Resources
and Opportunities for Christ

FREE GOSPELS OF JOHN AND SCRIPTURE BOOKLETS
AROUND THE WORLD WITH HUNDREDS OF MINISTRIES LISTED.
(Click on any of these items listed to jump directly to the information)

| | | |
| --- | --- | --- |
| Ministry Information | Available Resources | Outreach Opportunities |
| | | |
| | | |
| | | |
| | | |
| | | |
| Monthly Newsletter | | |
| | | |
| | | |
| | | |
| | | |
| | | |
| | | |
| | | |
| | | |
| | Hundreds of Languages | |

Salvation is a Free Gift!

Preaching the Gospel has Rewards!

"For if I do this willingly, I have a reward…" (1 Cor. 9:17).

"Now he who plants and he who waters are one, and each one will receive his own reward according to his labor" (1 Cor.

).

"Those who are wise shall shine like the brightness of the firmament, And those who turn many to righteousness like the stars forever and ever" (Dan. 12:3).

"Brethren, if anyone among you wanders from the truth, and someone turns him back, let him know that he who turns a sinner from the error of his way will save a soul from death and cover a multitude of sins" (James 5:19).

"And behold, I am coming quickly and My reward is with me, to give to every man according to his work" (Rev. 22:12).

---

Preaching The Gospel

A divine command.

A royal privilege.

An act of love and compassion.

The only message of hope for this world.

An opportunity to glorify our Savior on earth!

---

What Do They Believe?

---

10 Most Common Objections to the Gospel

---

10 Effective Ways to Witness at Work

---

What's your spiritual condition for evangelism?

---

Evaluate your spritual gifts.

Download free program.

---
---
We are a non-denominational outreach ministry that is winning others to the Lord Jesus Christ through the public reading and distribution of scripture.
We offer dynamic and challenging techniques in evangelism. Believers can choose from our daily, weekly, monthly or yearly outreach formats.
The following is a brief description of the ministries that we bring to churches and individuals:
---
The Free Word Ministries Perpetual Scripture Fund helps provide resources to ministries and individuals the opportunity to receive free scriptures for the work of ministry.
The Perpetual Scripture Fund is designed to keep the principle amount intact, thus allowing the interest to be used to purchase Scripture. By leaving the principle intact, contributions become a continuous blessing for years to come.
What types of Scripture are available?
Free Word Ministries is working with Absolutely Free, Inc. and World Missionary Press, Inc., in providing literature.
The picture above of the Living Water Gospel of John is produced by Absolutely Free, Inc., and has touched the lives of millions around the world.
World Missionary Press, Inc., supplies us with Scripture booklets on various subjects with more than 300 translations available.
Both organizations are reaching millions of people around the world and now you have an opportunity to help on a perpetual basis.
As the Perpetual Scripture Fund grows, Free Word Ministries will be able to provide a variety of Bibles, New Testaments, Gospels, Tracts and training material at no cost.
How do ministries and individuals receive Scripture?
Those requesting free Scripture from the Perpetual Scripture Fund simply contact Free Word Ministries with their request. All requests are prayerfully considered and filled in accordance with availability.
Distribution of Scripture is performed through the establishment of our Evangelism Resource Warehouses in designated cities or by mail.
Who manages the fund?
The Board of Directors of Free Word Ministries manages the fund and works to ensure its' continued ministry to the Body of Christ.
Free Word Ministries is a tax deductible non profit ministry.
How do I contact Free Word Ministries?
Our mailing address is:
Free Word Ministries, Inc.
75 South State Street
Concord, NH. 03301
(301)974-7310
Thank you for your prayers and support!
---
Free Word Ministries is currently receiving Gospels of John free of charge from Absolutely Free, Inc. This generous organization has supplied millions of copies of scripture in several different languages (English, Russian, French, Dutch, Arabic) all around the world.
Another wonderfully generous ministry is World Missionary Press, Inc. and also has supplied millions of copies of scripture booklets around the world on various subjects (ie. How to Know God, The Power of God and The Amazing Life of Jesus Christ) in over 300 languages for free.
This allows Free Word Ministries to both train and equip Christians with scriptures and evangelism training material affordably.
---
1. A Bible in Every Home booklet - Available online now!
(Click here to download your free copy - (This booklet is not to be sold)
Once downloaded - right click on the file and open it with AcroRd.
The Bible in every home outreach is a door to door visitation program with the goal of ensuring that each home around your church has a Bible in it and all those visited are invited to attend your church.
This is an exciting ministry that can easily be performed with great results. And by utilizing our team approach to ministry, believers can easily make time to reach their communities for Christ.
To request your free copy just click here.
2. Street Evangelism, Unleash the Power booklet - Available online now!
(Click here to download your free copy - (This booklet is not to be sold)
Once downloaded - right click on the file and open it with AcroRd.
Street evangelism is the most exciting, rewarding, and powerful ministry you will ever be involved in. If you have the faith of a grain of mustard seed you can personally touch the lives of hundreds and even thousands a in just a few minutes.
Our street evangelism outreaches follow a variety of formats. For instance, ministries outreaches can occur daily, weekly and monthly resulting in hundreds of people, who normally do not go to church receiving free scriptures and hearing the gospel.
Our daily lunch time ministry helps incorporate the gospel into every day life. Christians who participate in this type of ministry become a point of contact for Christ to those who are busy with the concerns of the day. Relationships begin to form, needs are meet and the gospel is presented. Truly the most effective ministry of all.
To request your free copy just click here.
3. This Great Battle - Available online now!
(Click here to download your free copy - (This booklet is not to be sold)
Once downloaded - right click on the file and open it with AcroRd.
For more than two thousand years billions of souls have been entering eternity destined for heaven or hell. It is estimated that the world death rate will be 55 million people this year. This is equivalent to seven cities the size of New York perishing in one year. How many will be lost? How many have already been lost since Christ arose?
This book takes a hard look at the Christian's state of preparedness in facing man's greatest enemies: death and the Devil. We will examine the Devil's weapons, tools and God's resources that He has freely given us to fight the good fight of faith.
If I were to tell you that the Bible lays out a way for believers to reach whole nations with the Gospel of Christ; thus literally reaching billions of people every day; would you follow God's plan and do what it says? Let's find out?
4. Giving from the Heart - The History and Fulfillment of the Law of Tithing - Available online now!
(Click here to download your free copy - (This booklet is not to be sold) Once downloaded - right click on the file and open it with AcroRd.
For centuries many Christians have suffered condemnation from fellow believers, for living below the proported ten percent standard of giving. This feeling of guilt is continually reinforced by portions of scripture that have been taken out of context.
Some believe that tithing is a Christian requirement; while others believe that being lead of the Holy Spirit is what God expects. What does the Bible really say about tithing? Is it for today or has the law been fulfilled? This book traces the history of tithing from Abraham to the New Testament Church revealing the implicit and explicit references hidden in scripture.
If you have ever been made to feel that you were living below the "acceptable Christian limit of giving," then you must recognize where this condemnation is coming from and what God has to say about it.
Let God restore your joy in giving and receive the Biblical knowledge that is necessary to live in the light of God's grace.
5. Evangelism Teams - Effective Ways To Build, Improve and Empower Your Ministry - Available online now!
(Click here to download your free copy - (This booklet is not to be sold) Once downloaded - right click on the file and open it with AcroRd.
Whether your church has an evangelism team in place, or if you are looking to start one, you will find this resource booklet both informative and challenging. This booklet focuses on the three main area for developing your church members into a witnessing team. In addition, we discuss the many resources that God has already provided for you free of charge. We also examine nine obstacles in evangelism today and how to overcome them.
6. Witnessing at Work! - Available online now!
(Click here to download your free copy - (This brochure is not to be sold) Once downloaded - right click on the file and open it with AcroRd.
This brochure reveals the ten (10) most effective ways to make an eternal difference in the lives of those you work with.
7. Yearly Outreach Ministry
The yearly Outreach Ministry focuses on freely distributing new Bibles or other forms of scripture the week before Easter Sunday and throughout the year. The Yearly Outreach is a great way to spread the gospel in your community. Just think of it! Christians freely distributing God's Word just before Easter with your churches name, address and phone number inside the cover.
Free more information on outreach ideas please click here.
---
Some of the Advantages of this Ministry
Many who ordinarily would not go to church receive a free Bible, New Testament or Gospel of John.
Those who have always wanted to publicly witness for Christ find it easier through this ministry.
The cost of material is free or inexpensive.
The actual time involved is minimal.
Our outreach techniques provide the necessary tools in reaching the lost for Christ.
We are mainly a self supporting ministry.
We strive to be a blameless ministry both spiritually and financially; which keeps our witness strong.
---
Here are a variety of seminar topics that we offer churches:
The 21 Irrefutible Laws of Leadership - Video series by John C. Maxwell
The Mormon Puzzle - Video series
Street Evangelism - Unleash the power
Effective Door to Door outreaches
Identifying everyday evangelism opportunities
Yearly holiday outreach ideas
Setting up an Evangelism Resource Warehouse in your city (video soon to be available).
---
Currently Free Word Ministries does not have a warehouse in operation. However, we plan to open another one shortly. If you would like more information about opening a warehouse in you area, please contact us.

Past Results

Approximately 900,000 Gospels of John and countless thousands of scripture booklets have been distributed through the Dallas Evangelism Resource Warehouse.
---
Make a Donation and Make a Difference Eternally!
Please consider supporting Free Word Ministries to help keep our material free, our warehouses open and expanding into other cities and countries. If we all do a little we can turn this nation around for Christ with Christians distributing the Word of God to the lost in every city.
Also please consider supporting Absolutely Free, Inc.(www.livingwater.org) and World Missionary Press, Inc. (www.wmpress.org)
Thank you.
---
If you would like to receive our free monthly email newsletter simply click here and we will include on our mailing list.
---
There are plenty of opportunities to serve the LORD and make a difference in the lives of others with Free Word Ministries. Here are the different teams that are available in our organization:
Campus outreach team, church outreach team, corporate outreach team, fund raising team, Ministry expansion team, prayer support team, publications team, resource research team, street evangelism team, warehouse support team
---
The Basic Starter Package is Free of charge! It contains all the information you need to get started. It contains the following:
---
If you would like to be placed on our email list please send us your email address and we will include you on our monthly letter. Top
---
Free Word Ministries, Inc.
75 S. State Street
Concord, NH. 03301
or just send email to the link below.

Robert Brincat
Director of Free Word Ministries
---
Ministry Resource Links
Below are the links to various ministries that offer a wide variety of evangelism material. We have included a chart to show which ministries offer free material.
* Free for distribution to members only.

Audio Cassettes and Video Tapes
| | | |
| --- | --- | --- |
| Ministry Name and Link | Phone Number | Cost |
| Dallas Prayer Ministry | (214)503-7101 | FREE |
| Every Home for Christ | (719)260-8888 | $$$ |
| Houses of Prayer Everywhere | (800)217-5200 | $$$ |
| Pray Arlington | (817)300-0004 | ??? |
| Prayer Power | (800)949-PRAY | FREE |
| Pray Texas | (915)580-4888 | ??? |
---
Thank God here in America we have the freedom to publicly proclaim that Jesus is Lord on every street corner across this country and give Bibles away. But are we exercising this great privilege or are we silent as the man who hid his talent in the ground (see the parable of the wise and wicked servants).

The Bible says that we are ambassadors for Christ, but have you ever heard of an ambassador that would not leave the embassy? You have to leave the embassy and meet the people if you going to represent Christ here in this world.

Read how you can personally touch the lives of hundreds and even thousands in just a few minutes each day. Download your free copy of the booklet Street Evangelism, Unleash the Power today.

Our hope is to one day soon place these resources on the net for all to read.

Families are hurting today. Shut behind closed doors, the world 's sin based value system is taking its' toll on men, women and children. Combat the effects of sin by addressing the cause. Make sure every home on your block has a Bible in it and every family is invited to attend church. Download your free booklet today.

The Bible tells us to redeem the time for the days are evil. Do we really need another sandwich? Why not make the most of your lunch time by spreading the gospel and encouraging others to come to Christ? Here are a few suggestions on spreading the gospel every day during lunch:
Distribute tracts to those you meet
Place tracts on parked cars as you go to lunch
Set up a table (like I do) and give away gospels of John free.
Start a Bible study at least one day a week in your place of business
Each month hundreds of people can move into a community. The Gospel Welcome Wagon outreach targets these new neighbors in you community and encourages churches to provide an information packet to that home; which includes information about your church and scripture. Be the first church in the community to make first contact with your new neighbors. Here are the simple steps to take:
Regisiter your church with your local Chamber of Commerce. Request their New Resident Listing be sent to you each month. This will provide your church with the names and addresses of all your new neighbors for the previous month.
Then simply put together information about your church, with some type of scripture booklet, and set a delivery schedule each month.
This simple and effect form of outreach will ensure a better chance of church growth through existing believers and through new converts.
There are many places where people go for entertainment. These include:
Bars
Restaurants
Amusement parks
Dance Halls
Stadiums
Public Parks
etc.
Most of these have public side walks along side where people have to travel to gain access. Use these side walks to advance the gospel. Freely distribute Gods Word. Go where the people are gathered and you will see a harvest.
Fair and Rodeo Evangelism, Inc. sponsors evangelistic Bible exhibits. This wonderful ministry sets up display booths at fairs and rodeos to help spread the gospel to the gathered multitudes. Here is the phone number for that organization: (817)265-8114 Ask for Clayton Camp, General Director.
There are many ways Christians can share their faith during the holidays. Here are a few suggestions for each holiday:
Christmas
include gospels of John or tracts with each gift
Give Bibles as Gifts to family, friends and associates
Include Christian literature in Christmas stockings
Invite neighbours and friends over for cookies and coffee and have literature available
News Years Eve
Don't drink and drive, stay alive to preach the gospel and enjoy your loved ones
Have literature on you to share with others
Distribute literature from the public side walks in front of holiday hot spots
Is a great time to begin door to door evangelism and participate in our yearly Easter Sowing Outreach. Members of your church take responsibility for the homes on their block and place a plastic door hangar (filled with a gospel of John, Easter tract and information about your church) on each home. Here is more information on starting this type of yearly outreach in your church:
First purchase literature,plastic bags and paper bags. Plastic bags can be found in the yellow pages usually for about $20 per 1,000. Paper bags can be purchased from local department stores and office supply stores. Have this done 1 month before the actual distribution.
Next, gather friends to help stuff small paper bags with 10 door hangar packets (we call these sower bags).
Two weeks prior to Easter, have the distributors (sowers) pick up a sower bag (with 10 already assembled door hangar packets) for distribution to the homes in their neighborhood.
Places where sowers can distribute: Anywhere - as long as you do not solicit for church membership or funds within your community, you have a legal right to freely distribute information anywhere just like others have the right to distribute phone books, news papers, etc.
If you would like more information, please contact us.
Memorial Day/Independence Day/Labor Day/ Thanksgiving and all Birthday related holidays
---
Every Day Evangelism Opportunities
Remember the great commission is no less than any other commandment listed in the Bible. This is not an option that Christians can ignore in their service and relationship to Christ. Every day God presents us with opportunities to serve Him and win others for Christ. We just need to be conscious of these opportunities and be equipped to take advantage of these sowing or reaping opportunities.
The Bible gives us a clear picture of our sphere of influence and how we are to share the gospel with others.
Every Day Spheres of Influence:
Family, friends,associates and contacts
At home, outside the home, at work and casual contacts
Block you live on, community, city
State, Country, World
Opportunities within those spheres:
Family - breakfast, lunch, dinner, bed time, parties, etc.
Friends - visitations, outings, parties, events, etc.
Work associates - at the office, company functions, during phone conversations, etc.
Casual contacts - with vendors, at toll booths, drive through places, in cabs, buses, planes, trains, with sales people, at restaurants...where ever there is a person.
On your Block - during conversations, at holidays, during times of emergency, whenever possible.
In your community - community functions, parades, meetings, etc.
In your city - open a warehouse and fill it with evangelism material.
In your state - work to open other warehouses in other cities in your state.
In the nation - utilize the internet and reach others for Christ, support ministries that provide and promote the Gospel of Christ nation wide, help open warehouses on a national level.
In the world - support ministries that provide and advance the gospel across the world, utilize the internet to advance the gospel internationally, work to form warehouses internationally
People tend to follow a definite pattern at times. Like fish we are attracted by many different things and at times people will travel in large numbers to special events. So, if you want to distribute a lot of literature to a greater amount of people, in a relatively short amount of time, fish were the crowds are.
The actual distribution process is quite simple and easy. Here are a few suggestions:
Have your literature on-site at the event to begin with (ie. in one or more parked cars). This way you will not have to travel far when you run out of literature.
Carry a sizable amount with you in a bag or nap sack and spread the gospel out among the crowds, as you would seed in a field.
Simply offer your literature and say, "Did you get your free copy?" People love receiving things for free and will be eager to take what you are offering when they see others receiving something that they don't have yet. You don't have to say, "Did you get your tract?" Most people may not know exactly what it is, so keep it simple. "Did you get one? It's free!"
Airports are considered public property and many organizations have distributed literature in airports. The Constitution allows us Freedom of Speech in public places. Here is a great place to distribute the Word of God since people will have time to read while they are traveling or waiting. For more information about your rights to distribute visit the website of the American Center for Law and Justice.
There are many opportunities every day to distribute the Word of God. All you have to do is prepare yourself by following these basic steps:
Be aware of the opportunities around you. Remember wherever people are gathered, cars are parked and homes are present you have an opportunity to distribute the gospel.

Be prepared to share. Have a copy of the Word of God on you at all times. Keep some at your work, in your home and in your car.

Take some literature and distribute the Word of God on your way to work, at work, during lunch, to vendors, returning from work, to people you meet, and to family, friends, associates, and neighbors.
Tell people that God loves them.
Many opportunities can present themselves during seasonal events such as the following:
In the summer you can distribute the Word of God:
At beaches, play grounds, parks, during parades, in your neighborhood
In the fall and spring you can distribute the Word of God:
Parks, playgrounds, during parades, during holidays, in your neighborhood
In the winter you can distribute the Word of God:
Please let us know of other ways or areas that you may think of, thank you.
Display Racks in Businesses and Churches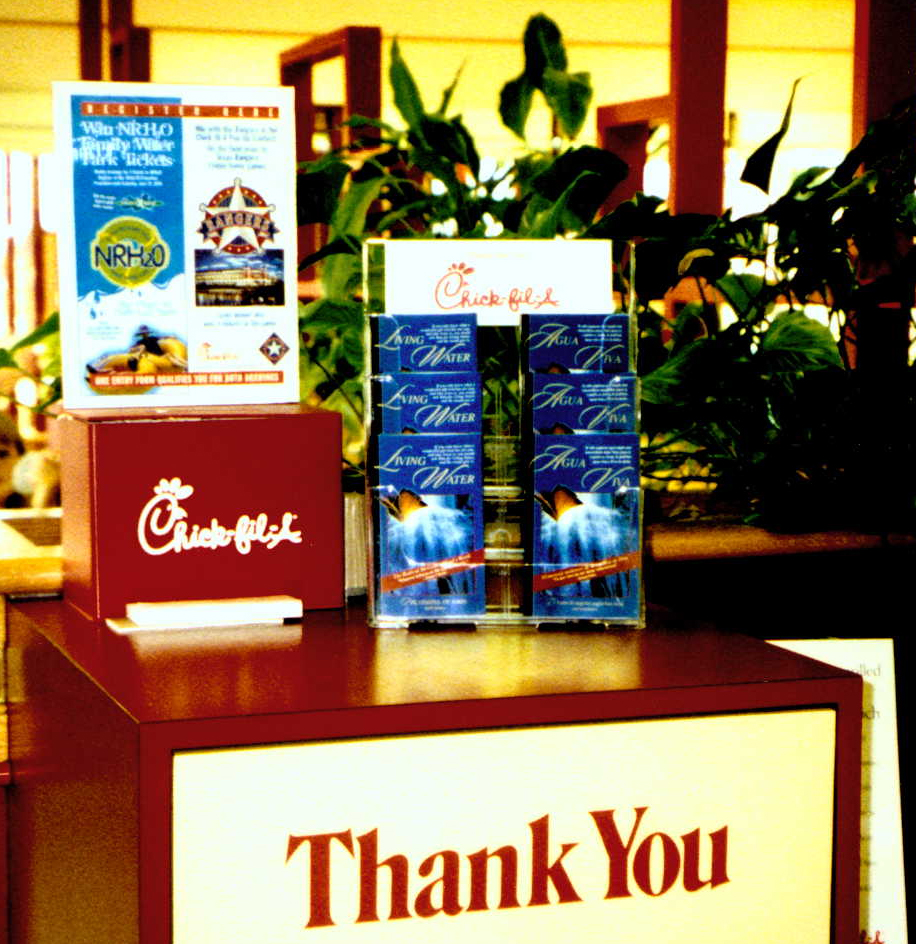 Are you a Christian business person or a believer who would simply like a display rack in their church to help equip other in leading people to Christ? Then simply contact us and we will scan in your company or church logo/name and neatly affixed to your display. Simply contact us and send us a copy of your company or church logo and we will send you a free display rack.
This is a great way to share the gospel in a non threatening way. It's a simple and effective method of reaching the lost for Christ.
Adopt a City - Open an Evangelism Resource Warehouse
Would you help save this nation for Christ? By adopting a city and opening an Evangelism Resource Warehouse you are helping to reach more than 200,000 families a year for Christ. These warehouses, filled with evangelism literature, facilitates evangelism by readily equipping the Body of Christ in each city.
Here's how simple it is:
Select a city and contact our ministry for assistance. Availability of scripture is subject to change.

We recommend that you use a Public Storage facility in your city. Public Storage warehouses are located in every city and have automatic key pad gates for easy entry.

Use a padlock combination lock at your site rather than a key lock do all who have the code can gain access to the facility.

Contact Absolutely Free, Inc. for Gospels of John at www.livingwater.org. For scripture booklets contact World Missionary Press, Inc. at www.wmpress.org and for training material and other resources contact us.

Also have a small book case with ministry brochures, evangelism training booklets, and a sign out sheet available for visitors. The sign out sheet will help track what items were taken and so that you may re-order more and have a record of all visitors.

Set up a fax / phone line with a voice mail message giving the latest inventory balances of the warehouse, directions and access codes to the facility, meeting dates and support information. We can help you secure a phone / fax line / voice mail phone line that will deliver voice mail message right to your computer for free.
The cost of a warehouse space varies with size and location. A 5x10 space can cost about $30 a month and can hold quite a lot of scripture. Would you or your church help bring the gospel of Christ to your city?
Please contact us today for more information.
Christians in America have the legal right to Freedom of Speech guaranteed by the Constitution of the United States of America. This right allows them to publicly preach and distribute religious material in any public area such as side walks, parks, airports, bus terminal, etc. For more information on this link to the American Center for Law and Justice.
What's your Current Spiritual Condition
Rating for Evangelism?
"Examine yourself to see if your in the faith" 2 Cor. 13:5
1. CSC relating to self (on a scale of 1-10 *1= not at all, 10= daily) (30%)
how often do you read your bible? _____

how often do you pray? _____

how often do you attend church? _____

*(weekly being rated as a 10)
Total _____
2. CSC relating to others (on a scale of 1-10 *1= not at all, 10= daily) (30%)
How often do you witness? _____

How often do you distribute literature? _____

How often do you bring the eternal aspects into your conversations? _____
Total _____
3. CSC relating to the Gospel (on a scale of 1-10) (40%)
*1= not at all, 10 = extremely well informed
How well do you know God's plan of salvation? _____

Do you have many salvation scriptures memorized? _____

How well do you know contrary cult doctrines? _____

how informed are you on popular genesis theories? _____
Total _____
Current Spiritual Condition Rating for Evangelism - Results
CSC rating relating to self: ______ 30%
CSC rating relating to others: ______ 30%
CSC rating relating to the Gospel: ______ 40%
Total ______ 100%
Now that you know where your strong or weak points are, what could your church and our ministry do to help you become stronger in evangelism? Let us know - click here.
"Go into all the world and preach the Gospel to every creature"
AFRICA - World Missionary Press Representatives

CENTRAL AFRICAN REPUBLIC

Adonai Missions International- Edet George Offong

Avenue David Dacko

B.P. 835

Bangui,

Central African Republic

Phone: 011-236-61-87-60

Fax: 011-236-61-33-30

Email: amicar@intnet.cf

ETHIOPIA

Message for the World- Fred McGinley

SIM

P.O. Box 127

Addis Ababa,

Ethiopia

Phone: 011-251-1-552-348

Fax: 011-251-2-511-242

Email: f.mcginley@telecom.net.et

GHANA

Challenge Enterprises of Ghana- Benjamin Boateng

P.O. Box 5723, Royal Castle Road

Accr,

Ghana

Phone: 011-233-21-222-437

Fax: 011-233-21-226-227

Email: ceg@africaonline.com.gh

KENYA

African Christian Church - Henry Mulandi

P.O. Box 3809

Thika,

Kenya

Phone: 011-254-151-22837

Fax: 011-254-151-22268

Email: ACCEA@MAF.Org

MALI

Eglise Chretienne Evangelique Faladie - Jean-Pierre Dabou

BP 2233

Bamako,

Mali

Email: jpd@afribone.net.ml

MALI

YFCI French-Speaking Ministries -Franklin Spotts

1044 LaPeer

Port Huron, MI 48060-0083

U.S.A.

Phone: 1-810-982-9399

Fax: 1-810-982-4704

Email:yfcimi@yfci-michigan.org

MOZAMBIQUE

AD2000 & Beyond Movement - Yuki Ishikawa

Private Bag Q7733

Mutare,

Zimbabwe

Phone: 011-258-3-312272

Fax: 011-258-3-312272

Email: yishikawa@teledata.mz

NIGERIA

West Africa Theological Seminary - Gary Maxey

35/37 International Airport Road

P.M.B. 003, MM Int'l Airport

Lagos,

Nigeria

Phone: 011-234-1-269-4107

Fax: 011-234-1-262-5238

Email: gsmaxey@infoweb.abs.net

SOUTH AFRICA

Christian Literature and Bible Centre - Dr. Willi Bohlmann

P.O. Box 3698

Durban, Natl. 4000

South Africa

Phone: 011-27-31-31-24-034

Fax: 011-27-31-31-21-473

Email: bohlmann@3i.co.za

TANZANIA

Gospel Literature Distribution - Gervase Martin Masanja

Box 9848

Dar-Es-Salaam,

Tanzania

Phone: 011-255-23-2402546

Fax: 011-255-22-2139817

Email: gospellit@hotmail.com

UGANDA

Christian Light Foundation - Reverend William Ssentumbwe

P.O. Box 4294

Kampala,

Uganda

Phone: 011-256-41-268-866

Fax: 011-256-41-267-082

Email: ugandamsn@africaonline.co.ug

UGANDA

Mickey Parrish

6937 La Mesa Drive West

Jacksonville, FL. 32217-2646

Phone: 1-904-733-3331

Fax: 1-904-733-3331

Email: AfrMission@aol.com

COTE D'IVOIRE

Mission Protestante - Craig Hanscome

BP 1121

San Pedro,

Cote D'Ivoire

Phone: 011-225-71-28-41

Email: 103665.242@compuserve.com
Central America - World Missionary Press Representatives

DOMINICAN REPUBLIC

Vispera del Fin - Juan Bautista Sanchez

Calle 2da. No. 24

Liberator de Herrera

Santo Domingo,

Dominican Republic

Phone: 1-809-531-0733

Fax: 1-809-549-2008

* Does not speak English

GUATEMALA

David Lott

Section 397/Guatemala

P.O. Box 02-5289

Miami, Fl. 33102-5289

U.S.A.

Phone: 011-502-256-3261

Fax: 011-502-256-3261

Email: davidlott@writeme.com

JAMAICA

Gospel Bells - C.D. Hamer

Jackson Town P.O.

Trelawny,

Jamaica

Phone: 1-876-610-4391

Fax: 1-876-975-2063

JAMAICA

Douglas Robb

148 Constant Spring Road

Kingston 8,

Jamaica

Phone: 1-876-925-0871

Fax: 1-876-925-0871

MEXICO

La Palabra en Cada Hogar - David Tamez

Apartado 6-634

Mexico, D.F. 06600,

Mexico

Phone: 011-52-5-374-1309

Fax: 011-52-5-393-2368

Email: tamezdr@aol.com

PANAMA

Instituto Educativo Cristiano - Michael Lea

Apdo. 6-3336 El Dorado

Panama City,

Panama

Phone: 011-507-443-5337

Email: leambbc@sinfo.netm

PANAMA

Robert Creech

3227 Kings Cross

Fayetteville, AR. 72703

U.S.A.

Phone: 1-501-444-9829

Email: rcreech@arkansasusa.com
South America - World Missionary Press Representatives



BRAZIL

Fecomex Comercio Industria

Importacao e Exportacao Ltda - Erno Engelsdorf

Rua Aurea Lima, 25

Niteroi, R.J., 24030-150

Brazil

Phone: 011-55-21-621-4636

Fax: 011-55-21-2621-6079

Email: fecomex@hotmail.com

PERU

Bruce Unterschuetz

Calle Los Angeles #14

Apartado 732

San Juan, Iquitos,

Peru

Phone: 011-51-94-26-0255

Fax: 011-51-94-26-0255

Email: bruceu4peru@hotmail.com
ASIA - World Missionary Press Coordinators



INDIA

India Bible Literature - E. Velayutham

67 Beracah Road

Kilpauk

Chennai, 600 010

India

Phone: 011-91-44-642-5166

Fax: 011-91-44-642-8298

Email: ibl.maa@iblchennai.org

INDIA

Dr. William Scott

22 South Main Street

Dover, PA. 17315

U.S.A.

Phone: 1-717-292-5070

Fax: 1-717-292-5645

Email:doragaru#aol.com

RUSSIA

Alexander Baraniuk

Russia, Moscow 113208

P.O. Box 91

Mission "Every Home for Christ"

Russia

Phone: 011-7-095-954-3652

Fax: 011-7-095-954-3652

Email: ehcr@orc.ru

THAILAND

Kendall Cobb

P.O. Box 165

Chiang Mai, 50000

Thailand

Phone: 011-66-53-960-290

Fax: 011-66-53-960-290

Email: kcobb3@loxinfo.co.th

PHILIPPINES

Lord Jesus Fellowship - Bert Manlapaz

Pilar, Bataan 2101

Philippines

Phone: 011-63-4723-7-35-36

Fax: 011-63-4723-7-29-22

Email: manlapaz@mozcom.com
Here are the names and addresses of individual Christians who are in need of Bibles and Christian literature.
Will you take the time and send your old or new Bibles to these brothers and sisters in Christ?
Africa
GHANA
Benjamin Boateng

Challenge Enterprises of Ghana

P.O.Box 5723, Royal Castle Rd.

Accra, Ghana

email: ceg@africaonline.com.gh

Kingsley Osei Konadu

Box Ks 11560 - ADUM

Kumasi,

GHANA - West Africa

Immanuel Moses (age 12)

ETSIAPA.MEM.METH Basic School

Post Office Box EL8

Elmina - C/R

GHANA - West Africa

Perpetual Damoah

P.O. Box 8

Oldtafo - Kumasi

GHANA - West Africa
NIGERIA
Rev. Young Okorie

Qua Iboe Mission

26 Bonny Street

Umuahia Township

Abia State

Nigeria, West Africa.

Gary Maxey

West Africa Theological Seminary

35/37 International Airport Rd.

PMB 003 MM International Airport

Lagos, NIgeria

email: GMAfrica@aol.com

Sword of Salvation Int'l Ministries,

The Ark of Redemption Assembly,

No. 3 Princess A. Akenzua,

Ojomoh Street, Etete G.R.A.

P. O. Box 13587

Benin City, Nigeria.
KENYA
Pastor Stanley Mutuku

P.O BOX 178

NORTH KINANGOP

Kenya

Africa
Asia
INDIA
Pastor John Joseph

Dalal Compound, Katol Road,

Nagpur 440013 - MS

INDIA
Phillippines
Pastor Lito B. Agyam

Blk.2 lot 24 Clementa

Maniki, Kapalong, Davao

8113 Minidanao Philippines
---
Romans 3:10 "Ther is none righteous, not even one..."
Romans 3:23 "For all have sinned and fall short of the glory of God."
Romans 5:8 "But God demonstrates His own love for us in that while we were still sinners, Christ died for us."
Romans 5:12 "Therefore, just as through one man sin entered into the world, and death through sin, and so death spread to all men, because all have sinned."
Romans 6:23 "For the wages of sin is death, but the free gift of God is eternal life in Christ Jesus our Lord."
Romans 10:9,10 "If you confess with your mouth Jesus as Lord, and believe in your heart that God raised Him from the dead, you shall be saved; for with the heart man believes, resulting in righteousness, and with the mouth he confesses, resulting in salvation."
Romans 10:13 "For whoever will call upon the name of the Lord shall be saved."
God Created Man

God Redeems Man

God Provides for Man

So God created man in His own image, in the image of God he created him; male and female... Genesis 1:27
"Blessed be the LORD God of Israel, for He has visited and redeemed His people," Luke 1:68
"Let not your hearts be troubled; believe in God, believe also in me. In my Father's house are many rooms...I go to prepare a place for you, I will come again and take you to myself. that where I am you may be also" John 14:1-3.
"Christ redeemed us from the curse of the law, having become a curse for us - for it is written, "Cursed be every one who hangs on a tree (the cross)" Galations 3:13
"Now from the sixth hour (12 noon) there was darkness over all the land until the ninth hour (3 PM). And about the ninth hour Jesus cried with a loud voice..."My God, My God why has thou forsaked me?...And Jesus cried again with a loud voice and yielded up his spirit' Matthew 27:45-50. Also read Psalm 22
"He has delievered us from the dominion of darkness and transferred us to the kingdom of his beloved Son, in whom we have redemption, the forgiveness of sins." Colossians 1:13,14
"Christ died for our sins according to the scriptures" 1 Corinthians 15:3.
"He entered once for all into the Holy Place (heaven), taking not the blood of goats and calfs but his own blood, thus securing an eternal redemption" Hebrews 9:12.
"For God so loved the world that He gave His only begotton Son, that whosoever believes in him should not perish, but have everlasting life.

For God did not send His Son into the world to condemn the world; but that the world through him might be saved.

He that believes on him is not condemned: but he that believes not is condemned already, because he has not believed in the name of the only begotten Son of God" John 3:16-18.
The Great White Throne Judgement
"Then I saw a great white throne and him who sat upon it: from his presence earth and sky fled away, and no place was found for them. And I saw the dead, great and small, standing before the throne, and books were opened. Also another book was opened, which is the book of life. And the dead were judged by what was written in the books, by what they had done. And the sea gave up the dead in it, Death and Hades gave up the dead in them, and allwere judged by what they had done. Then Death and Hades were thrown into the lake of fire; and if anyone's name was not found written in the book of life, he was thrown into the lake of fire" Revelations 20:11-15.

Man's Faith in God's Plan

| | |
| --- | --- |
| Faithful Response | Faithless Response |
| | |
| Sins forgiven in Jesus | Sins counted against |
| Man recieves a new life and hope in Christ | Man remains dead in sins without hope and without God in this world. |
| Man recieves his new spiritual body to live in God's Presence. | Man recieves his new spiritual body to suffer in Hell. |
| Enters Paradise | Eternal Torment in Hell |
The choice is simple!
Look to Jesus Christ to be saved or not.
Want to know how much God loves you? Look at Christ's sacrifice.
Want to know your sins are forgiven? Turn to Christ.
To learn more about being saved, simply read your Bible.
If you are in need of prayer or have any questions please feel free to contact us.
---